What is meant by "early music" and "historical performance?"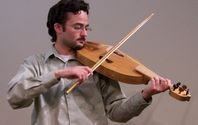 The terms Early Music and Historical Performance were coined in the mid-20th century to describe a particular approach to medieval, Renaissance and Baroque music, in which performers focus on the music's original cultural and historical context, including the use of historical period instruments and languages. In other words, Historical performance can be described as an investigation into historical practices of making art. It's not quite the same as "reenactment," but it has some characteristics in common: Early Music performers study the old instruments and the techniques that were used to play them; the ancient notation; the archaic languages; and so on.  Every performance is preceded by extensive research into historical instruments, early notation, unwritten improvisatory and ornamental practices, and the historical context of that particular repertoire. We might say instead that Historical Performance is essentially enacted research, in which the fruit of research is the process of creating and executing a performance rather than in an object such as a book or other publication. The art and scholarship of historical performance, and the intellectual and expressive rewards of rediscovering how artists in other eras perceived and responded to their world, occurs precisely at the intersection of 'creativity' and 'scholarship' which is also sometimes referred to as Arts Practice Research. 

The music of the medieval, Renaissance and Baroque eras spans a thousand years, and ranges from plainchant to madrigals; from Renaissance dances to Baroque chamber music; from early American "shape-note" hymns to early colonial Latin American music. Within it, we can hear the musical "roots" of many kinds of later western music: classical, sacred, folk, traditional, and popular. Even rock and jazz, in addition to their significant African-American heritage, sometimes also use western "modal" scales and harmonizations that were handed down to us from medieval times. Improvisation was also an important part of many kinds of ancient western music, leading to the continuing creation of "new" performances of "old" music. It's exciting to discover that in the act of opening this window to the past, we are actually creating "new" and exciting performances of music. It's a constantly unfolding process of musical discovery, for both the performers and the listeners.

 The ensemble is open to both singers and instrumentalists, with the understanding that everyone may be called upon to use their voices! Our players mostly use historical instruments (like the viola da gamba pictured at left, and the medieval fiddle or "vielle" pictured above), especially as we continue to have the good fortune to slowly build Tech's period instrument collection. However, we occasionally will use a modern instrument for practical purposes, if we have no access to its early counterpart. (We never turn away a player just because they've never tried a historical instrument -- the whole point is to learn how!) We have regularly scheduled rehearsal times on Mondays (6-7:30) and Wednesdays (usually instruments, 5-6 and/or 6-7), and Friday (3-4:30). We generally do one whole-group project with at least one major public performance per semester, with occasional additional performances.  We also sometimes give performance-demonstrations for local schools.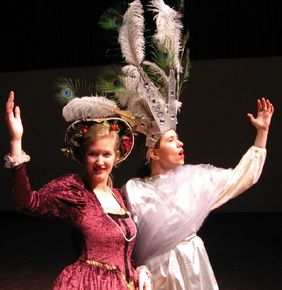 Here's a quick sample of titles from some of our past programs:
A Harp of Thousand Strings (Early American hymnody, ballads, and tunes)
Improvisation and Invention in Medieval Music
Le Noble Rhétorique: Puzzling Polyphony and Subtle Spring Songs from the Fourteenth Century
Music for Twelfth Night (in conjunction with the TTU Main State Theatre production)
Ordo Virtutum (Hildegard von Bingen)
Songs of Praise and Devotion: Medieval Italian Laude Spirituali 
Dances, Catches and Consorts: Diverse Musick from 17th-Century England 
Music from an English Masque (pictured, right)
From Malory to Morley: A Renaissance Journey 
Cancionero! 
The "Real" Carmina Burana 
Knights, Maidens and Minstrels: music from medieval France 
Miracles and Mayhem (including one of the Plays of St Nicholas) 
An Evening of Monteverdi 
The Star Shining on the Mountain: A Medieval Spanish Christmas
Click here  for a full list of all of our concerts from 2001 to the present.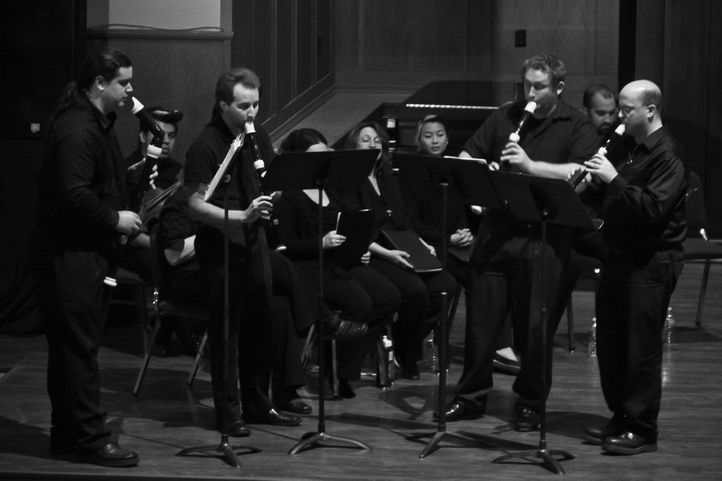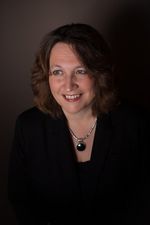 A native of the state of Massachusetts, Dr. Angela Mariani is Associate Professor of Musicology at the  Texas Tech University School of Music, the director of the Texas Tech's Collegium Musicum, and a  member of the Texas Tech Teaching Academy. She has a Doctorate in Early Music-Ensemble Direction  and a Master's Degree in Early Music Vocal Performance from the Early Music Institute (now called the  Historical Performance Institute) at Indiana University's prestigious School of Music. She is the recipient of Early Music America's Thomas Binkley Award (2017), TTU's Barnie E Rushing Jr. Distinguished Research Award, TTU's President's Excellence in Teaching Award, and in 2018 was designated a Texas Tech Integrated Scholar. 
Dr. Mariani's main research and performance area is in the field of medieval music. While attending Indiana University's Early Music Institute, she studied medieval performance practice with the groundbreaking early music scholar and performer Thomas Binkley, and undertook additional voice and performance practice studies with Paul Elliott, Wendy Gillespie, and Elisabeth Wright. She has also studied medieval music with Benjamin Bagby and Barbara Thornton of Sequentia, and early music vocal techniques with Boston-based soprano Nancy Armstrong. Dr. Mariani's  also has a Certificate in Medieval Studies from Indiana University.  Her book, Improvisation and Inventio in the Performance of Medieval Music, was published in 2017 by Oxford University Press. 

Dr. Mariani began her professional music career in the world of rock and folk as a vocalist, guitarist and keyboardist. After graduating with a Bachelor's degree in Music Theory and Composition from the University of Massachusetts at Amherst, she taught and performed for a decade in the Boston area, where she also taught a popular acoustic fingerstyle guitar course at Boston's Guitar Workshop, and co-founded the folk-rock band Reynardine in the 1980s. When asked what drew her to medieval and Renaissance music, she may cite her experience in the University of Massachusetts' Collegium and the influence of the Studio der Frühen Musik recordings from the 1970s, but she is just as likely to blame Led Zeppelin, Jethro Tull and Fairport Convention.

Since the early 1990's, Dr. Mariani has also written, produced, and hosted the nationally-syndicated public radio program Harmonia. She has published on the topics of early music performance practice, public radio, and rock and roll, and has appeared on National Public Radio, Deutsche Welle, Radio Netherlands, and the CBC. She records and tours internationally with Altramar medieval music ensemble (7 CDs to date on the Dorian Group label), has taught early music at workshops internationally, has served as recording session producer for a number of prominent early music groups, and was for many years a member of the Board of Directors of Early Music America. She also performs and records traditional Irish music with the group Johnny Faa, founded by colleague and partner Dr. Chris Smith (also on the TTU faculty and a fellow member of Altramar).

Here at Texas Tech, Dr. Mariani teaches seminars on medieval music and early performance practice, graduate and undergraduate music history courses, and directs the Collegium Musicum. She also designed and inaugurated both Tech's very popular, large-enrollment History of Rock and Roll course, and the School of Music's Graduate Certificate in Early Music Performance Practice. 

To contact Dr. Mariani, email her at angelamariani.smith@ttu.edu.
---